Online Au Pair Course
During the length of the course you will have access to support and you can study it in your free time. At the end of the course, there is an essay for you to complete in order to get your certificate. What is the objective of this Online Au pair Course and what topics are covered?
Module I – Taking care of young babies

Understanding the basic needs of a young baby, so that you can ensure that all of her needs are being met. Such as Feeding, sleep and human contact, as well as the importance of human contact to the healthy mental and physical development of babies, and how this makes the baby feel loved. Other topics covered: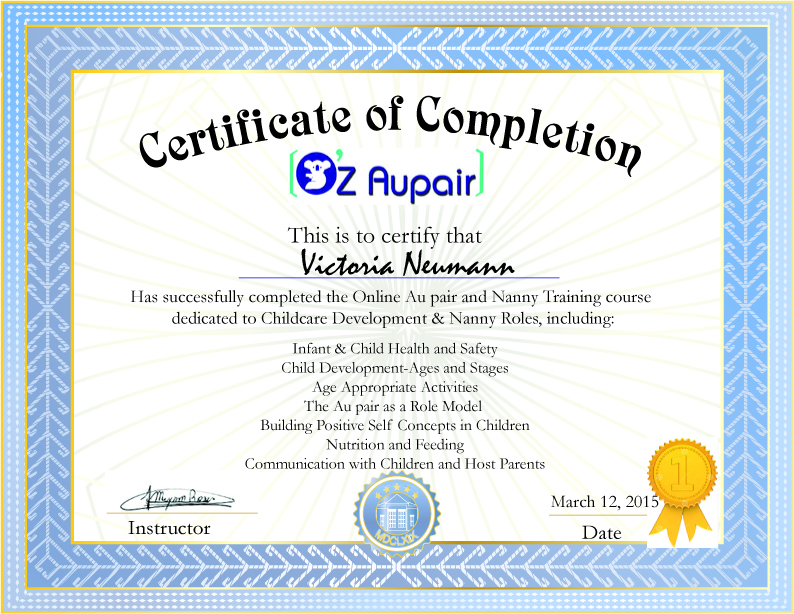 Holding a young baby
Crying and comforting
What's the best way to comfort a baby?
Nappy changing routine
How to bath your baby
Bathing routine
Dressing a baby
Module 2 – Feeding a Baby
Making up formula milk

Making up formula routine
Winding the baby
Bottle feeding routine
Spoon feeding
Which foods should you avoid giving to the baby?
Helping the baby feed himself
Ideas of healthy Finger foods
Your essential travel kit when going out
Module 3- Baby Safety
Reducing the risk of sudden infant death syndrome (SIDS)
Baby safety
Safety precautions in the bathroom
Module 4 – Becoming a Toddler - Nutritional needs
The five main food groups
What snacks should I give to the toddler?
Safety first with foods
Eating - Feeding issues
Fussy eaters
Junk food
Module 5 – Becoming a Toddler - Promoting manipulation
Module 6 – Development
Milestones in intellectual development
Milestones in locomotive development
Milestones in manipulative development
Module 7 - Learning through play
How does playing help the child to learn?
Play will help the child to:
How can I encourage my child to be creative?
Different types of play to nurture different skills and prevent boredom
Module 8 –Growth and development –Activities they enjoy at different ages
6-9 moths - which activities will the baby enjoy at this age?
9 months- 1 year - which activities are suitable for the baby at this age?
1-2 years - which activities are suitable for the child at this age?
2-3 years - which activities will the child enjoy at this age?
3 - 4 years - which activities are suitable for the child at this age?
4 – 5 years - which indoor activities are suitable for the child at this age?
Which outdoor activities are suitable for the child at this age?
Module 9 – Becoming a Toddler
Module 10 – Keeping your child safe
Module 11 –Looking after a sick child
How can I best look after a sick child at home?
What should I do if the child has fever?
First Aid for Kids
Module 12 – Matters of discipline
Module 13 – For the Au pair: Making the Relationship Work
Being a Part of Your Host Family
About Your Au Pair Job
About Your Host Famiy's Children
About Your Host Family's Parents
About Your Host Family's House
BONUS
How to make modelling dough 
How to make Soap bubbles and blower 
How to make Baby play dough 
Easy Macaroni and Cheese Recipe
Baby Purees Recipes: 9 Fruit Purees for 4 + / 6+ Month baby

Lunch Recipes
Egg salad sandwich
Tuna, celery & dill sandwich
Chicken, celery & avocado sandwich
Beef, cheese & carrot sandwich
Cheesy spinach rice muffins
Should You Au Pair?
Assignment